Executive and Organisational Coach Certificate
Our full coach training programme, the Executive and Organisational Coaching Certificate (EOCC) is fully accredited with "Approved Coaching Specific Training Hours" (ACSTH) by the ICF, meaning the programme provides the required hours for your application to apply for the Associate Certified Coach (ACC) credential.
The EOCC course can be run internally at your business and is available
as a public programme twice a year in NZ and Australia.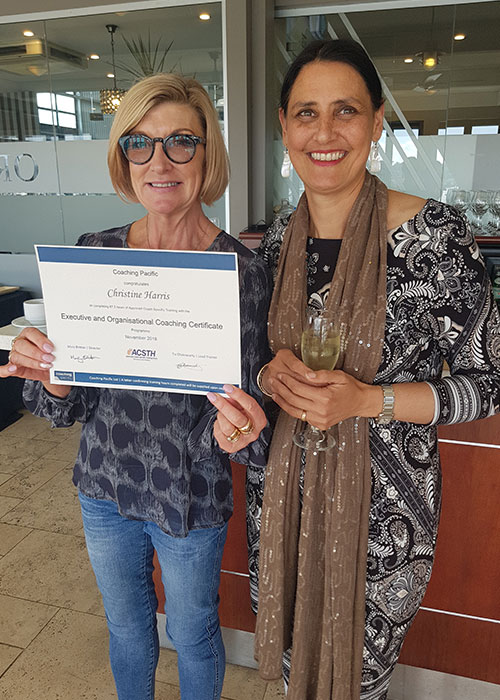 The Executive and Organisational Coaching Certificate (EOCC) is a highly practical training programme that provides you with the Coaching skills to be the best leader you can be.
Learn where coaching fits in the leadership landscape
Dive deeply into the communication skills of listening & speaking with clarity
Discover the 5 core elements of speaking
Learning structures for conversations
Learn goal setting theory and practice application
Understand accelerating momentum with coaching sessions
Discover the processes of change for people
Understanding perspective
Know how to develop self-awareness
Team coaching, performance coaching and informal coaching techniques
Learn how to develop a coaching culture
Understand how to measure ROI for coaching
Work with various feedback tools
Understand the neuroscience that supports all of the above
The programme is delivered in a combination of face to face, distance learning, self-study, practise with fellow students and fully prepares participants to deliver skilled coaching in their professional capacities.
What are the key benefits?
This programme builds robust coaching and leadership skills to a level
which can achieve a globally recognised ICF credential.
The programme delivers 67.5 hours of International Coach Federation
Approved Coach Specific Training Hours (ACSTH).
It develops the participant's self-awareness and general leadership skill set. These are transferrable skills. Participants will gain knowledge, skills and confidence in building teams who think independently and creatively; teams who will embrace the habits and principles of coaching from experiencing coaching.
Download

the EOCC brochure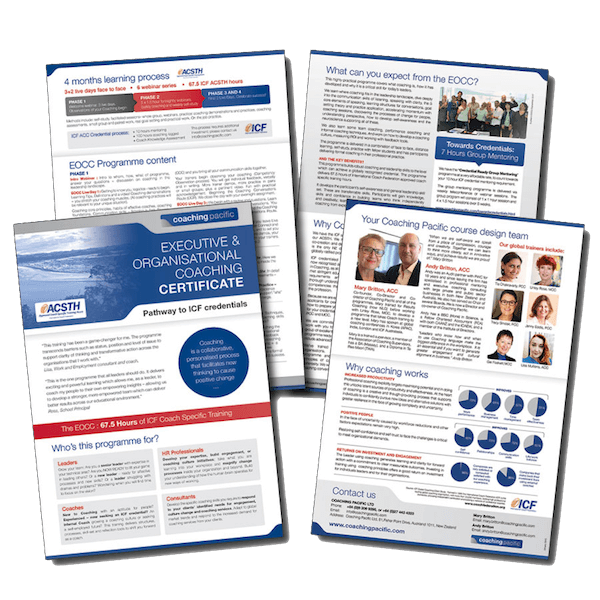 Our ICF accredited coaching course (EOCC) takes place over 3 months plus 2 optional supervision webinars. The EOCC course comprises face to face, 'Live' days and a series of webinars, to allow maximum flexibility in delivery and allowing us to make the course affordable. There are three core phases and an optional fourth phase to the programme, which is detailed below.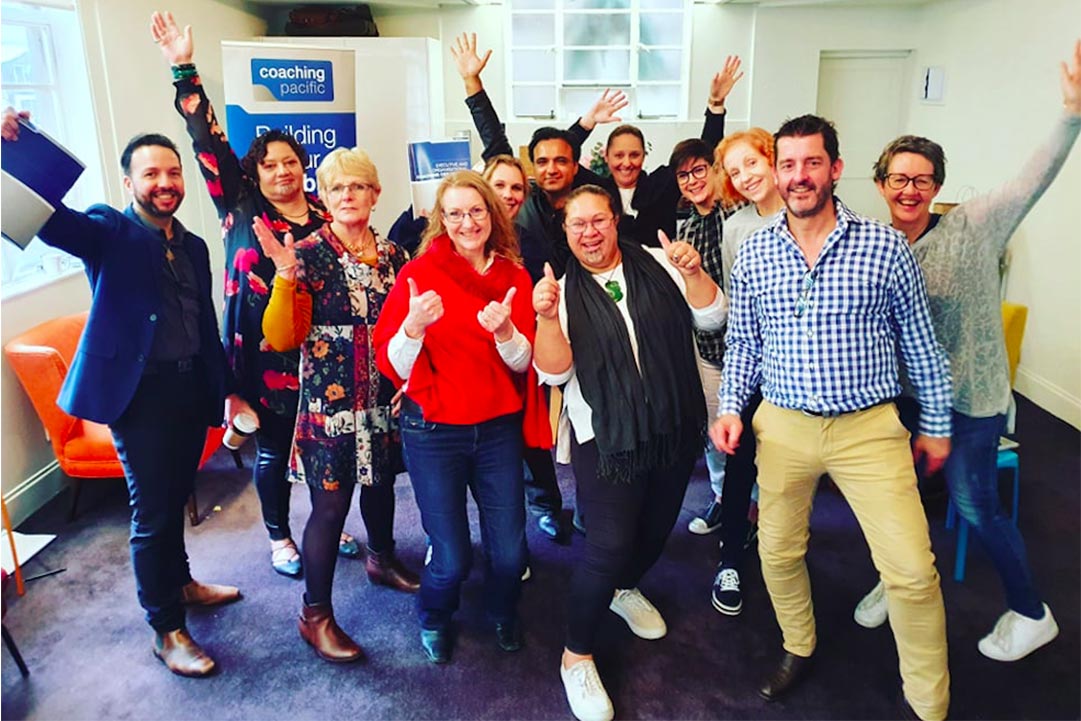 PHASE ONE
Introductory Webinar
We introduce you to your trainers, answer your questions, and consider where coaching fits into the leadership landscape. The purpose of this session is to get logistics handled so that we can move straight into content and learning from the beginning of Live Day 1.
EOCC Live Day 1
We start with getting to know you – ensuring you are ready to begin. Then it's learning tips, defining coaching and an entertaining video. Your trainers demonstrate coaching, and you have a chance to try coaching for yourself before lunch. All of your coaching practices will be relevant to your unique situation.
After lunch we look at the core principles of coaching, the habits of effective coaches, and the foundations of coaching. Followed by communication skills – beginning with listening; then speaking with clarity – offering you three things to include every time you speak. We complete with an introduction to all aspects of clarifying, and leave with an overnight assignment.
EOCC Live day 2
We begin with an energising review of Live Day 1, then get back to communication skills. Today we move more deeply into speaking with clarity; we incorporate all aspects of clarifying and then we cover permission, feedback, acknowledgement and questions – with many practical exercises using real scenarios.
We introduce the Coaching Conversation Cycle and you bring all your communication skills together in your own practice, as your trainers begin observing your coaching in our Competency Observation process.
You will receive individual feedback, verbally and in writing. These are followed by more trainer demonstrations, more practice in pairs and small groups, plus a pertinent video. We consider practical acknowledgement. And begin the Coaching Conversations Route. We complete the day with your overnight assignment.
EOCC Live Day 3
We begin with the review and your questions. Now we work on the complete structure for whole coaching conversations. You will use both your developed communication skills and the Coaching Conversation Cycle, within the Coaching Conversations Route. Introducing SMARTER and PURE goals. We cover Creating Actions and Reviewing Actions so that you leave the Live Days ready to go out and coach.
We look together at connect and coach opportunities; and use a video which will inspire you into an individual challenge to work on in your coaching exchanges. We offer more demonstrations, build up your own practice, and help you utilize development observations from your trainers. We complete the day with your takeaway assignment.
PHASE TWO
After EOCC live Day 3 we begin a series of fortnightly webinars all of 1.5 hours duration. Each webinar includes a Review and Reflect component followed by the introduction of new material. All webinars will have fieldwork (assignments) that give you up to one hour of work to complete, sometimes with your course buddy, and sometimes with coaches and colleagues.
EOCC – WEBINAR 1
Generating Goals Part 1 – 1.5hr (theory and demonstration). the science and art of goal-setting, a structure, some key components, a demonstration – setting you up to practice firstly with your buddy.
EOCC – WEBINAR 2
Introduction to formal coaching – 1.5hr. We explore elements of a formal coaching series or engagement, including the intro or chemistry session and accelerator sessions.
EOCC – WEBINAR 3
Generating Goals Part 2. Generating goals can be complex so we dedicate 2 webinars to ensuring you have a robust process. This session we focus on Establishing Accountabilities and accelerator sessions – 1.5hr. here we discover how to anchor everything you are learning inside the structure of a regular coaching session.
EOCC – WEBINAR 4
Agreements and ethics – 1.5hr. in detail we explore all the crucial elements of coaching agreements – and do some vital work on the ICF code of Ethics.
EOCC – WEBINAR 5
Processes of change and Practice – 1.5hr. some new models which support your neuroscience understanding of the brain, how we draw out and support "aha" moments; and the possibilities for change which emerge.
Please note: Fortnightly 1.5 hours webinars now include support and supervision of your real life, 'on the job' coaching practice +self-study and/or buddy work each week.
PHASE THREE
EOCC Live day 4
We come back together to amplify your understanding – More tools, new models and a deepening of your presence as you coach.
Perspective

– an exploration of the clarity of distance – one of the great gifts of an accomplished coach.

Developing self awareness/Emotional Intelligence

 – as a coach you work with coaches on their self-awareness and emotional intelligence all the time; it is our own ability to be aware of our thoughts, beliefs and values which support us best in eliciting new learning in coaching sessions.

Team coaching

– What stays the same, where are the differences? how do we coach a team? Which elements of our contracting into team coaching best support success in this mode?

Performance and Development coaching

– Techniques, considerations – how do our freshly-honed coaching skills support us in performance and development work?
EOCC Live Day 5
Now we add the polish to everything the successful coaching leader or Executive and Organisational coach needs. Today we begin working with formal feedback tools (e.g. 360 degree tools); we move to developing coaching culture or cultures of engagement within organisations; +  a practical session on establishing ROI and ROE; and we conclude our time together learning how to complete a formal coaching series. We celebrate your achievements and success.
PHASE FOUR
We are committed to your continuous improvement as a coach; and Supervision allows you to bring your coaching back into the safe space of your EOCC group to look at what is working, what could be better; to consider your self-awareness, and monitor for anything which may be getting in the way of your excellent coaching.
This phase consists of two webinars, one per month, which will monitor your success and assist you to iron out any challenges you may be having. We use both coaching and teaching in these sessions, which ensures your people's new skills are honed, grown and developed. Find out more here.
Please note: Phase 4 is optional and in addition to the core EOCC training programme.
Frequently Asked Questions
We understand that any training can be a significant investment for any business, which is why we have provided answers to our most frequently asked questions below in order to help you decide why Coaching Pacific and the EOCC programme is the best choice for your people and your business
What are Coaching Pacific's Vision and objectives for the EOCC?
Our vision is to build coaching capability, developing new levels of self-awareness and self-responsibility to coaches, organisations, coachees, colleagues and clients – resulting in more satisfying and productive lives.
Our objectives are that you complete the programme as a well-trained and competent coach, who understands and applies the Ethics and Professional Standards of coaching; with well developed self-awareness and self-responsibility.
What are the biggest take-aways from this programme?
You will learn to coach both formally and informally and be able to apply these skills as a professional coach or as a leader. You will earn a Coaching Pacific Executive and Organisational Coaching Certificate. You will take away a skill set and an ability to deepen and improve all of your functional relationships – with coachees, clients, colleagues and leaders. You will improve your understanding of yourself and you will know yourself better as a learner. You will have a deepened level of understanding of all aspects of change at a personal, professional and organisational level. 
And everyone is different! You will define your own intentions for the programme, which will include your definitions of a successful training for you. The coaching skill set includes a mastery of communication skills; your listening will deepen, your speaking will become clearer, more committed and succinct. You will learn and experience the benefits of empowering your coachees to become solutions focused and more self-directed.
How many hours of the EOCC are student/trainer contact hours?
Student/Trainer contact hours are 54 hours. The programme offers 67.5 hours in total which can be counted when using the ACSTH (Approved Coaching Specific Training Hours) pathway for credentialing with ICF. We appreciate that working your way through the credentialing process can raise questions and we are always happy to answer these for our participants.
What is the EOCC based on?
It uses the International Coach Federation Core Competency framework as a backbone, and uses aspects from positive psychology and neuroscience to bring all of the simple models and Competencies alive. It is also based on our years of successfully coaching people within organisations, the experience training leaders as coaches and career executive coaches.
What value is the Coaching Pacific Executive and Organisational Coaching Certificate to me?
The team at Coaching Pacific comprise credible and vastly experienced coaches, trainers and facilitators. Our founders, Andy and Mary, are fully accredited ICF coaches and you can understand more about their and the team's experience here. This is an internationally approved programme by the ICF (International Coaching Federation), meaning your training provides you with the necessary Approved Coach Specific Training Hours (ACSTH) to support your application to gain an internationally recognised qualification that will benefit you both professionally and personally.
What are the benefits to me of this focus on ICF?
The ICF is the largest coach membership organisation in the world (35,000 + members). ICF has a long established code of ethics and practice and it maintains a rigorous and well respected credentialing programme. ICF is actively building professional and collaborative relationships with other large coaching membership organisations as the profession of Coaching builds momentum as a recognised professional industry. Have a look on www.coachfederation.org
Can I complete the programme in less time because I am experienced?
We have worked with a number of very experienced coaches. As a coach you will know that as we achieve mastery of skills and processes we uncover the next rung of a ladder of excellence which opens us up as learners again and invites us to learn more, get better, and find the next level. We will work with you from wherever you are already up to. Our feedback will be robust, challenging and supportive of your best possible outcomes.
What else is required to obtain my ACC credential from ICF?
The other requirements for ACC are 10 hours of Mentor Coaching, 100 logged hours of actual coaching, a recording and transcript of your coaching and the successful completion of an online Coach Knowledge Assessment test. We expect that with commitment, planning and focus you can achieve this within 12 months. We are here to support you on this journey and we provide the Mentor Coaching to support you on this as a separate programme.
Don't just take our word on how great the EOCC course is and the benefits it provides, hear from previous participants what they got from the training and becoming an accredited coach
"This training has been a game-changer for me. The programme transcends barriers such as status, position and level of issue to support clarity of thinking and transformative action across the organisations that I work with."
Want to know more or talk with a member of our team?
Get in touch
If you would like to know more about the EOCC programme and how it could work for your people and business, please contact us via the form below and a member of the team will get back to you and we will also send you a copy of our EOCC brochure.