Smart, professional Coaches know they need to choose training that has International Coach Federation (ICF) approval.
The International Coach Federation (ICF) is the world's largest organisation of professionally trained Coaches. Dedicated to advancing Coaching as a profession, ICF set high standards, provide independent certification, have a worldwide network of trained coaching professionals and connect their members with tools and resources for successful careers.
ICF offers the only globally recognised, independent credentialing programme for Coach practitioners. ICF also accredits programs that deliver coach-specific training.
There are two training pathways:
Accredited Coach Specific Training Hours (ACSTH)

Accredited Coach training Programme (ACTP)
Coach training Organisations facilitating ACSTH and ACTP courses, like Coaching Pacific, must complete a rigorous review process and demonstrate that their curriculum aligns with the ICF Core Competencies and Code of Ethics. 
So, what's the difference?
Why is ACSTH better for the Coaches and Leaders who study with us?
The Coaching Pacific 'Executive and Organisational Coaching Certificate' (EOCC) is an ACSTH Coach Training Programme.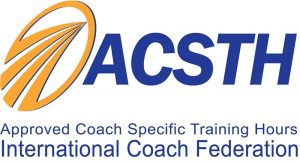 Why choose an ACSTH programme: 
You choose your own timetable and spread the costs in moving towards your certification.


You can spread the costs of group mentoring; 1:1 mentoring; transcription and ICF membership across 6 months, a year or longer to fit your own PD budget and to match your own pace in building up your hours of practice as a coach. (ACTP programs are required to provide students with ICF mentor coaches, which means all students have to pay the coach training school for mentoring upfront – making tuition more expensive). With ACSTH you may choose not to pursue the credential – your plans may change, your own market research and opportunities may preclude the certification in the short term.

You don't have to wait with ACSTH.


With an ACTP program, you have to complete the entire programme – which may take two years. With the EOCC that offers 67.5 ACSTH hours, you'll get an initial certificate from Coaching Pacific when you have completed the live days. We provide support and plug you into our alumni and professional coaching network. We help you to take all of the next steps, when

you

are ready.

You can choose your own mentor Coach.
Choosing your own coach, mentor or supervisor is an important piece in your unique journey – we recommend that you choose carefully 😊
Not every coach or mentor is a good fit for every coachee or mentee, so having one assigned to you by your coaching school does not quite fit the coaching model! When you take an ACSTH program, you can choose your own mentor coach and we also offer an affordable group mentoring option for those 7 hours which you can complete in a group of people going through the same process.
What else distinguishes this programme?
Our programme specifically builds your knowledge and skills in organisational coaching including team coaching, coaching cultures and ROI/ROE of coaching. When you have completed our programme you will be ready to offer your coaching services internally or externally into organisations – corporate, government or NFPs.

We wrote this programme because we believe in enabling you to be the best coach you can be in the shortest possible time. We use ICF's PCC markers from the outset to provide you with accurate, effective and encouraging feedback which gives you specifics to work on and which celebrates your strengths. We encourage you to put yourself at the very centre of the learning – this is not theoretical it is practical. And we have planned the programme to give you maximum practice with real coaching.

It is anchored firmly in human neuroscience and evidence-based research into how people change and how we can support those processes with coaching. This is not an academic programme – we have adopted Einstein's principle that 'everything should be as simple as possible and no simpler!' The programme materials are designed with models to support you gaining deep knowledge of the coaching process. It also deepens your knowledge of yourself as a coach and your well-founded confidence in the value which you can deliver as a coach.
What are your next possible steps?
We know lots about coaching, and all our team are ICF Coaches – we are committed to you making the right choice for you!
Please feel free to ask your questions and share your thoughts.